Dogcember is an annual charity event run by The Barracks Vet, with the aim of raising funds and awareness for a worthy organisation. We have raised over $19,000 since we opened in 2009.
In 2013 we raised $3,000 for Sydney Wildlife, who rescue and rehabilitate our precious native birds and animals. This money was used to build a large recooperation shelter, allowing possums, sugar gliders and small birds room to move while in the final stages of recovery.
In 2014 we raised $4,500 badly needed funds for BARC in Bali, a medical and adoption centre for abandoned, injured and homeless dogs.
In 2015 we raised $4,000 for Rocky's K9 Rescue, a not-for-profit animal rescue centre that has been saving loving and deserving dogs and cats from death row from the pounds of Sydney and NSW surrounds, placing them in foster care or boarding kennels until their forever homes can be found.
In 2016 we held a WISHING BOWL for Greyhound Rescue, to help provide them with the basics needed to help these dogs transition into new homes. Our amazing clients donated and purchased so many essential items which were able to be delivered in time for Christmas!
In 2017 we are raising funds for Pets in the Park, a charity providing free treatment and products to homeless pets living on the streets with their owners.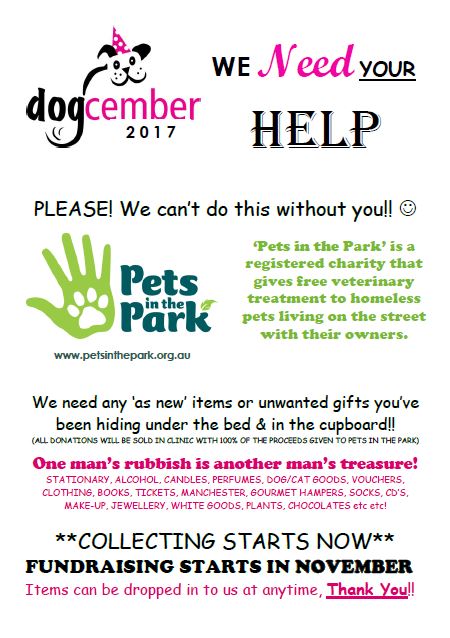 The Barracks Vet Team