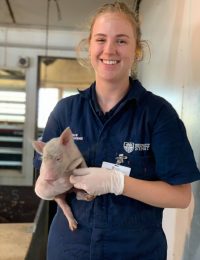 Completing a Doctorate of Veterinary Medicine at Sydney University
Zoe was born in Sydney, but has since lived in Canberra and then Perth before coming back to the city to study Veterinary Medicine at the University of Sydney.
She is currently in her second year of post-graduate study, and while working at the Barracks Vet she hopes to gain hands on experience and learn everything she can about being part of the veterinary profession.
Zoe has always been passionate about working with animals of all kinds, but has a special interest in wildlife and exotic animals.
Just last year she spent several weeks in South Africa working with wildlife vets and disease pathologists, and one day she hopes to work with endangered or exotic species, either in zoos or in the wild!