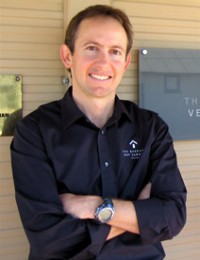 B.V.Sc. (Hons) SYD M.R.C.V.S. N6299
Hailing from a strong farming background in the central west of NSW, James was accepted into Veterinary Science and graduated in 1997 from the University of Sydney with Honours. He then worked in a mixed animal practice for over three years in the Southern Highlands of NSW, where he met his future wife, Amanda.
James and Amanda then headed over to England, and after a year of working in a busy small animal practice in the North of Kent, they returned to Australia in 2002 and settled in Mosman.
James spent the following six years practicing as a vet within Mosman, developing a strong affinity for the pets and owners of Mosman and the Lower North Shore region.
In 2009 James developed and opened The Barracks Vet Surgery, a brand new Mosman Vet practice, scenically located at Georges Heights, with the aim of providing a unique, high quality veterinary experience for the pets and owners of Mosman, Cremorne, Neutral Bay & the surrounding suburbs of the Lower North Shore.
In November 2010, James and Amanda were blessed with the arrival of a son, Harry James.